The Woodpecker is a primary weapon for the Soldier class in Blitz Brigade. It is one of the earlier primary weapons unlocked for the Soldier, and is somewhat similar to the Madford SMG and the Rommel 1911. For stats, the damage is average, but the key strength of the Woodpecker is that it is supplied with a very high rate of fire, which makes it the second fastest shooting primary weapon for the Soldier (basically, spraying at enemies with this is a breeze). The ammo capacity is the best in class, even beating out The Hooligan, and the range is around average for a Soldier primary. However, the critical chance is at 0%, but the main weakness of the weapon is that it does feel somewhat inaccurate when firing at mid-range. Overall, the weapon is very good, and despite the fact that it is unlocked and purchasable rather early in the game, it is still a very useful weapon to have in certain situations. It is based on the American-180 sub machine gun.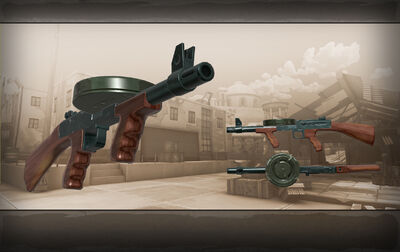 Ad blocker interference detected!
Wikia is a free-to-use site that makes money from advertising. We have a modified experience for viewers using ad blockers

Wikia is not accessible if you've made further modifications. Remove the custom ad blocker rule(s) and the page will load as expected.