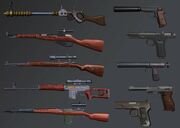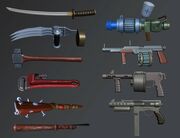 Weapons are used to kill enemies in Blitz Brigade. Different kinds of weapons are suited for different situations and ranges. They are divided in three different categories: Primary, Secondary (Turrets for the Engineer) and Melee. Every weapon can be upgraded too premium with diamonds, but there are also some weapons that only can be bought in its upgraded state. All the non-upgraded weapons have got an experience bar which has three milestones to reach which upgrade your weapon and reduce the upgrade cost. Vehicles are also mounted with weapons and they'll deal even more damage when you upgraded them, but the vehicles haven't got an experience bar. Some weapons are very powerful and can kill in one hit, some of them just take time. The only weapon that is not categorized to a class is the machine gun, because it's a part of its map and anyone can use it whenever he want.
Primary Weapons
Edit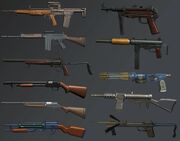 It is the first type of weapon that the player starts off with in-game. These include all kinds of weapons like machine guns, submachine guns, sniper rifles, healing weapons, silent/silenced weapons, and a whole host of bizarre, futuristic weapons. Every update are there some new weapons, so therefore do they also remove some underused weapons.
Secondary Weapons
Edit
It is used as an extra weapon designed to be used in situations where reloading is too long, the primary run out of ammo, or when a Sniper needs something for close combat, as the normal primary (sniper rifle, most likely), is not that great for close combat. Secondary weapons include pistols, revolvers, submachine guns, and shotguns. Turrets are seen as no secondaries at this wiki: The Engineer hasn't got any shared secondary weapons like the Two-Bit Gangster.
Melee Weapons
Edit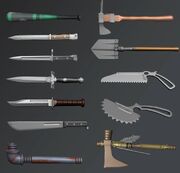 A melee weapon is a powerful tool that is designed to hit an enemy and deal massive damage. Every class has two basic melee weapons, but once you level up and gain more coins you can soon buy deadlier melee weapons. The melee weapons a very small attack range and radius so it is advised not to use them, or upgrade to a better melee weapon. No ammo is required(obviously). The melee weapons all seem to have strange names. Most melee weapons make little or no noise except for the Gunner's deadly chainsaw and the Bonerattler. But these doesn't make the user appear on the enemies' map. When using the stealth class, it is best to attack enemies from behind when using a melee weapon, a scoped sniper would be your best choice.
Division
Edit
Aside from the default Soldier and Gunner weapons, all the Primary and Secondary weapons are categorized in the bronze, silver or gold division. If you buy a weapon will you automatically be placed in the division of that weapon. But note that it's not possible to get in a lower division, once you got into one. Many people use real money to buy the best and most expensive weapons, but we highly recommend to first get playing-skills and experience before bringing yourself to the highest division. Because once you're in the gold division, you can't get out of that one anymore and you are forced to fight in a higher level of playing.
All weapons in shop can be bought bought by coins or diamonds. At the shop you can repair your weapons or upgrade them to premium by spending diamonds. Note that you just have to pay the half of the upgrade cost if you upgrade the weapon to the third star first. The most weapons are unique to a class, but some are shared and some have no specific class at all. The weapons have got a different look, amount of damage, RPM, critical chance, range... and also star bonuses and fusion upgrades. Both of the upgrades can make it very easy on you to make kills.
The Fusion Upgrades can only be activated on primary and secondary weapons if you have to pre-chosen amount of cards and the same type. If so, you can activate it by spending 12,000 coins, but you can never deactivate it or get those cards back and use them for other weapons.
The Star Bonus Upgrades can be received on all weapons after reaching the milestones at the upgrading bar or by upgrading the weapon to premium.
Ad blocker interference detected!
Wikia is a free-to-use site that makes money from advertising. We have a modified experience for viewers using ad blockers

Wikia is not accessible if you've made further modifications. Remove the custom ad blocker rule(s) and the page will load as expected.