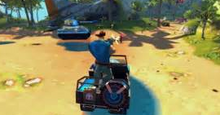 Vehicles
have an important role in
Blitz Brigade
. When they were automatically re-spawned, they were mostly used as transport, so players could move quickly and efficiently in the short five minute games. But since the three new vehicles were added in the
Vehicle update
, the player has to pay diamonds. This is probably to prevent matches where all players used crushers only. The vehicles don't automatically spawn in the map anymore and they have to be spawned at the Spawning Station. Since this update, the vehicles can only be upgraded with diamonds. The
Tank
was renamed to Thunder Roller, the
Helicopter
to Blitz Chopper and the
4x4
to Blitz 4x4.
Spawning Station
Edit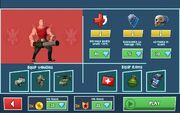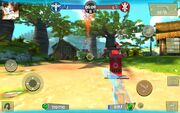 The Spawning Station is a radio device placed somewhere close to each team's base point. It has a little screen on it and an antenna on it. To play with vehicles, you have to select them at the menu, right after you entered a match. On the left you can find "Equip Vehicles". You have to press a slot and change it with another vehicle. After you selected which three you want to use, you can spawn in and go to the spawning station. The first spawn costs 2 diamonds; the second 1 and the rest is free. When the update was released spawning started from 6 diamonds and 3 for VIPs
Ad blocker interference detected!
Wikia is a free-to-use site that makes money from advertising. We have a modified experience for viewers using ad blockers

Wikia is not accessible if you've made further modifications. Remove the custom ad blocker rule(s) and the page will load as expected.