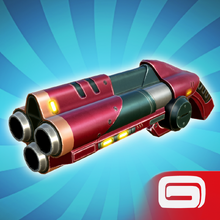 Update 17 has been released in December 2016 for android and IOS. It was a small update with the new Christmas content for 2016. In that update has there been added four new Primary weapons: Crumbler, the Nippy Wand, the Season's Beatings, and The Naughty List. But also four new hats: The Slapdash Santa, the Face Baster, the Frosty Face and the Wreath Crown. During this period, did the Special Snowflake, the Treat Dispenser and the previous Christmas hats appear back in the shop. At least did they also made a new consumable, called the Cold Snap, and which is a grenade with a themed skin.
Ad blocker interference detected!
Wikia is a free-to-use site that makes money from advertising. We have a modified experience for viewers using ad blockers

Wikia is not accessible if you've made further modifications. Remove the custom ad blocker rule(s) and the page will load as expected.