The Destroyer is a secondary weapon for the Gunner class in Blitz Brigade. It is the strongest secondary weapon for the Gunner and can weaken enemies massively with one roaring shot hence it's name. It has excellent fire rate and damage. It is based off the Pfeifer Zeliska 28mms Revolver
Fun Fact: The destroyer is one of the largest secondaries in blitz brigade. Due to its massive size, the gunner has to hold it with both hands.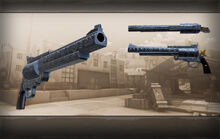 Ad blocker interference detected!
Wikia is a free-to-use site that makes money from advertising. We have a modified experience for viewers using ad blockers

Wikia is not accessible if you've made further modifications. Remove the custom ad blocker rule(s) and the page will load as expected.