The Annihilator is a primary weapon for the Gunner class in Blitz Brigade. It has a low ammo capacity but makes up for it due to the fact that it shoots explosives at a medium rate of fire (72 rpm). The Annihilator is a different gun from most Gunner guns but it is similar to the Bison B45, Bouncy Joe, and Rancor grenade launchers but does not fire projectiles. The Annihilator deals good damage even if your shot is slightly of target. It is based on the Fliegerfaust.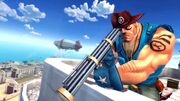 Ad blocker interference detected!
Wikia is a free-to-use site that makes money from advertising. We have a modified experience for viewers using ad blockers

Wikia is not accessible if you've made further modifications. Remove the custom ad blocker rule(s) and the page will load as expected.