The Steiger .45 is a secondary weapon for the Soldier and Sniper class in Blitz Brigade. It is the second to last secondary weapon for the Soldier (behind the Ol' Reliable) and the Sniper (behind The Viper's Fangs). It's late position in the shop indicates that this weapon has very good performance when compared to the other secondaries, and this is true; it deals a great amount of damage in each shot and great accuracy, along with a decent fire rate and critical chance. The range is average, but the ammo capacity is just enough to make the player wish they had more shots to use and then switch to their next weapon. It is available for 40,000 coins in the shop, and costs 40 diamonds to upgrade, which makes it the second to most expensive non-special secondary weapon in the shop, behind the Ol' Reliable at 60,000 coins for the Soldier, and is the same with the Sniper; the Viper's Fangs is the expensive secondary weapon at 180,000 coins. It is based off of the M1911.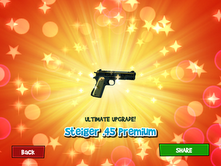 Ad blocker interference detected!
Wikia is a free-to-use site that makes money from advertising. We have a modified experience for viewers using ad blockers

Wikia is not accessible if you've made further modifications. Remove the custom ad blocker rule(s) and the page will load as expected.