The Sonic Pistol was a secondary weapon for all classes in Blitz Brigade. It was only available through a tournament in the past, and is not available in the store unless the player won the gun. It deals with much damage for it's fire rate and it would be a useful secondary weapon for the Soldier, Stealth, and Sniper, but would be considered average for a Gunner and weak for a Medic. The magazine capacity is abnormally high for a handgun. The range is adequate for a secondary weapon, despite the inability to aim down protruding fixed sights above the weapon. Instead, there are only hipfire crosshairs. It has a slight resemblance to the Ray Gun from Call of Duty. This weapon was reintroduced in the 2.0.0 update (with hats as main feature) as the "Super Sonic Pistol" and requires level 6 in VIP. It was also given better stats and a new red, blue, and gold color.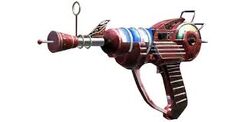 Ad blocker interference detected!
Wikia is a free-to-use site that makes money from advertising. We have a modified experience for viewers using ad blockers

Wikia is not accessible if you've made further modifications. Remove the custom ad blocker rule(s) and the page will load as expected.