The Poacher is a secondary weapon for the Soldier, Gunner, Medic and Sniper classes in Blitz Brigade. It is a combination between a pistol and a sniper rifle due to its deadly accuracy at medium range. The damage is excellent, and critical chance is great when getting a headshot. The range is medium, and the ammo capacity is even lower than a BB 23, which is weaker than this. Where the Poacher really is let down is the rate of fire, which feels extremely slow, and isn't particularly good when you are trying to kill someone urgently.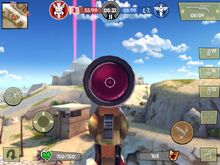 Ad blocker interference detected!
Wikia is a free-to-use site that makes money from advertising. We have a modified experience for viewers using ad blockers

Wikia is not accessible if you've made further modifications. Remove the custom ad blocker rule(s) and the page will load as expected.