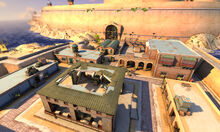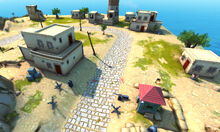 Maps are places where you have to fight in Blitz Brigade. An example of a map is Malta Fort. There are currently 5 Domination maps, 5 Deathmatch maps, 5 Capture the flag maps and 3 Free for all maps. You can see a top down view of the map from your minimap located at the top left of your HUD. Even though (on some maps) it may seem like the maps go on, when you roam over the limit, blue transparent hexagons block you, giving it a futuristic feel. Note: You cannot swim and as many people have tried exploring, if you try going into water you will drown. To pick the map you want to play just select the game mode and the specific map you want to play.
Ad blocker interference detected!
Wikia is a free-to-use site that makes money from advertising. We have a modified experience for viewers using ad blockers

Wikia is not accessible if you've made further modifications. Remove the custom ad blocker rule(s) and the page will load as expected.