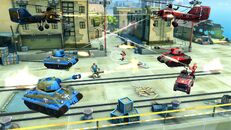 Game Modes are different types of playing a match in Blitz Brigade. When realesed, there were two game modes, but in one of the very first updates, update ..., did they already added the 'Capture The Flag' and later on an other one in update 13 called 'Free For All'. You can choose which type you want on certain maps. But not all of the maps have got all modes and duration. There are currently 5 maps for Domination Mode, 5 maps for Deathmatch mode, 5 maps for Capture The Flag Mode and 3 Free For All maps. In every game mode can you earn XP or coins based on how much kills you made and how many times you died, not on the mode itself. How many you receive depends also on the kills and deaths. The pre-chosen matches of the Events aren't different either, but if you want to make points for those, have you got to play that game, staring from the Event menu
 List of all maps in every game mode:
Edit
Domination:
Deathmatch:
Capture the Flag:
Free For All:
See Also:
Edit
Ad blocker interference detected!
Wikia is a free-to-use site that makes money from advertising. We have a modified experience for viewers using ad blockers

Wikia is not accessible if you've made further modifications. Remove the custom ad blocker rule(s) and the page will load as expected.