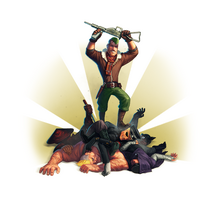 Events are temporarily pre-chosen matches that you can join in Blitz Brigade. You have to go to the "Event" Menu and select which one you want to join. You join automatically by playing (pressing the play button is already enough to activate it). Also, don't that if you didn't activated the event, you wont get the awards, or reach any milestones. Almost every week, there is a Squad tournament, a weekly tournament, starting on Friday and one extra event starting on Monday.
The Squad tournament only has a Top 100 and no milestones, however if you win that you'll earn a lot of diamonds. Note that the amount of diamonds will be divided over you team. You can see what you got at the left of the screen. The squad tournament takes 5 days and the reward can only be claimed the day after it, so you have to keep on playing to be sure you win this.
The Weekly tournament is three days long and can have all type of milestones, like skill points, coins, diamonds, consumables, card boxes or weapons. In the Top 100 can you sometimes win big prizes when you're first. Sometimes are this just diamonds, sometimes are this really strong weapons.
The other events are just two days. Unlike the tournaments can the events, no matter which event, be completed on any map or game mode. It has got a Top 100, mostly with little awards, and milestones that depends on the type of the event. Sometimes you have to heal a certain amount of times to reach the milestone and other times you just have to make the most kills.
Tournaments
Squad Tournament
Weekly Tournament
Events
Quick Draw
True Speed: Be the first one to get a kill!
Primary Schooled
Kill the most enemies using Primary weapons!
Have A Blast
Get the biggest explosive kill streak you can!
Global Warming
A Helping Hand
Patch up teammates as many times as you can!
Valentine's Day
Patch up teammates as many times as you can!
Road Kill
Heads up
Score as many headshots as you can!
No-Fly Zone
Shoot down every airborne enemy you can!
Gunner Warfare
As a Gunner, kill as many enemies as you can!
Slugfest
Shoot Du Jour
Kill enemies using the Great Smile weapons
Alternative methods
Kill the most enemies using Secondary weapons!
Ad blocker interference detected!
Wikia is a free-to-use site that makes money from advertising. We have a modified experience for viewers using ad blockers

Wikia is not accessible if you've made further modifications. Remove the custom ad blocker rule(s) and the page will load as expected.