The Drumhammer is a primary weapon for all classes in Blitz Brigade. It is a special weapon, meaning it is already premium and is only available for purchase via diamonds (it costs 1000 diamonds). Despite a high price, the Drumhammer deals a great amount of damage with a decent rate of fire that surpasses all of the other special weapons, except for the Whirlwind. It is somewhat handy for close combat, being easy to aim, especially with the Medic's fast movement speed. Range is as expected for a shotgun - powerful in close quarters but weak at a distance. In the update that brought the Demolisher class, this and the Nebula are now available in supply crates. This gun based off of the Saiga-12 Russian full-auto assault shotgun cut down to an extreme CQB version.
Fun facts
Edit
One notable design feature is that on the gun in the shop, it displays where bullets enter the magazine, but doesn't display this during gameplay.
This weapon suffers from the 1 Damage Crit Bug when equipped on the Soldier or Sniper.
Not many people have used this weapon, but even fewer have noticed the small integrated reflex sight at the end of the tactical rail.
This is one of the three major automatic shotguns in Blitz Brigade, along with Spark Frenzy and Shellbourne. They all have their strengths and weaknesses; The Shelllbourne deals the most damage, but suffers from the slowest rate of fire. The Drumhammer has a faster fire rate and a slightly lesser damage per shot. Last but not least, the Spark Frenzy has a much faster fire rate but dramatically decreased damage, taking almost an entire magazine to kill another player (depending on circumstance).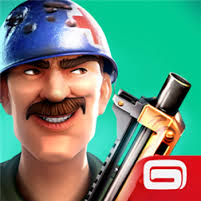 Ad blocker interference detected!
Wikia is a free-to-use site that makes money from advertising. We have a modified experience for viewers using ad blockers

Wikia is not accessible if you've made further modifications. Remove the custom ad blocker rule(s) and the page will load as expected.