The Chainsaw is a melee weapon for the Gunner class in Blitz Brigade. It is the fourth most devastating melee weapon in the game, after the Curly Q, Reaper's Gears, and the Christmas-themed Elf Whacker. It will kill enemies in milliseconds, and is 2% less dangerous than the Curly Q. However, it is the strongest melee weapon for the Gunner. It is useful if you are a Gunner and you use your melee weapon often. Unfortunately, the chainsaw is far from silent and overheats in a few seconds of continuous use. (It's not quite sure, but it might be the only weapon that wasn't silent. Now won't the player appear on the enemies map anymore by using this melee weapon.)
If not repaired with coins or upgraded to premium, the chainsaw will lose a majority of its damage.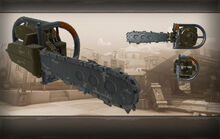 Ad blocker interference detected!
Wikia is a free-to-use site that makes money from advertising. We have a modified experience for viewers using ad blockers

Wikia is not accessible if you've made further modifications. Remove the custom ad blocker rule(s) and the page will load as expected.