The Auld Lang Syne is a primary weapon for the Gunner class in Blitz Brigade. It is a Christmas-style circus cannon, which appears to launch some sort of explosive frog with pointy ears. It deals excellent damage, but the other stats are disappointing - a very low rate of fire (due to the lengthy reload after every use), a 0% critical chance, a low ammo total, and a relatively short range. When it is fired, the organism that is the ammunition produces a bizarre squealing noise. When it is purchased, it is already premium, hence the high price. The blasts are very powerful and are generally deadly to all classes except gunner.
NOTES:
This weapon was last released during the 2014 christmas sale.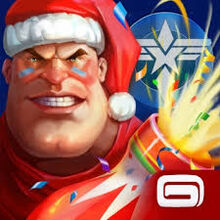 Ad blocker interference detected!
Wikia is a free-to-use site that makes money from advertising. We have a modified experience for viewers using ad blockers

Wikia is not accessible if you've made further modifications. Remove the custom ad blocker rule(s) and the page will load as expected.